פרטים

נכתב על ידי יעקב הלחמי
קטגוריה: מאמרים
נוצר ב 06 ינואר 2019
כניסות: 4124
מערכת "בית הסרט העברי" מפרסמת ילקוט נוסף בסדרה של מקורות לדברי ימי הסרט הארץ-ישראלי, לשנת 1922 - ילקוטים נוספים, לתקופות שונות שבין 1897 ל-1947, מופיעים באתר זה.
ילקוט מקורות לדברי ימי הסרט הארץ-ישראלי לשנים 1922, ליקט, העיר, ההדיר וערך: יוסף הלחמי ( מהדורת 2018 - כל הזכויות שמורות © 2018).
חומר רב שאינו מופיע כאן, עדיין טמון בארכיונים, ספרי זיכרונות, אוספים פרטיים, תכתובת משפחתית, כתבי-עת, עיתונות יומית ועוד. אנו פונים לכל מי שמחקר הסרט בארץ-ישראל יקר לו וברשותו דבר שלא הופיע כאן, שיואיל לשלוח אותו למערכת "בית הסרט העברי", שתשבצו בילקוט המתאים.
**********
לזכרו של חיים תכלת (2014-1933), ממייסדי הטלוויזיה החינוכית בישראל ומעצבי דרכה
**********
"Moving Picture Age", January 1922, p. 30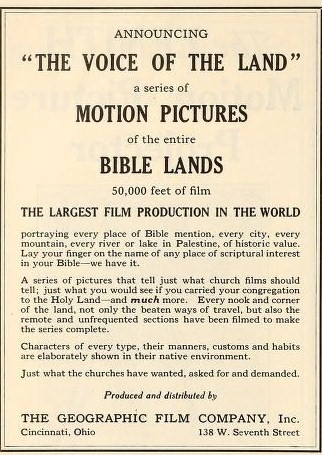 IMDb
Production: Geographic Films [US], 1922
Samaria (1922)
The Little Town of Bethlehem (1922)
On the Road to Bethlehem (1922)
Shechem (1922)
Shiloh (1922)
Gibeah (1922)
The Valley of Dry Bones (1922)
Beersheba (1922)
Hebron the Ancient (1922)
Beyond the Jordan (1922)
The Road to Jericho (1922)
Walls of Zion (1922)
"זיכרונות", מאת רונלד סטורס, כרך שלישי, ע' 680, הוצאת "מצפה" בע"מ, תל-אביב, תרצ"ח, תרגום יצחק א. עבאדי [באדיבות ד"ר יוסף לנג].
[...] בשנת 1922 הסתערו על ירושלים באי-כוח חברת "פוקס" כדי לסרוט את חורבן ירושלים ע"י טיטוס נוכח הרקע של חומותיה מהמאה השש עשרה. הריאליסטים האלה מצאו עד מהרה כי הנוף הא"י היה יותר מדי מקומי. הלגיונרים הרומיים, ואלה היו חיילים מן הגדודים הבריטיים, שהיו חובשים כמובן כובעי שריון ומדים רומיים התחילו להסתער על העיר, והנה קמה בהלה (אמיתית), אך קלת ערך במקום אחר והללו נאלצו להימלט על נפשם. לא הרבה יותר טוב היה מזלם של המסרטים משעה שירדו למחנה של בדואים כדי לצלם מלחמת גמלים. הם אספו בעמל רב ובהוצאות מרובות 200 או 300 איש מאנשי המלחמה האלה, ולצורך זה נתנו להם חרבות מוזהבות, בחרו להם את שדה הקרב ומדדוהו והעמידו את הצלמניות, ואולם בני ישמעאל לא יכלו כנראה לעמוד בניסיון, והגמלים על כריהם רוכביהם ותחמושתם דהרו לתוך המדבר ונעלמו באופק, לבלי שוב עוד.
"Film Year Book", 1922-1923, p. 205
[…] HOLY LAND 1,000 FT. February 10 […].
"The American Cinematographer", 1 January 1922, p. 6
A Voice from Palestine
Alvin Wyckoff, A.S.C., has received the following letter from Cecil de Freitas of the Lasky laboratory, who has been in the near East for several months:
Just a few words about my trip to the Holy Land, and some of the photographic conditions that I found there, for I think they will be interesting to a brother cinematographer.
Leaving New York on the Steamship Asia, seventh of September nineteen twenty-one, we sailed to the Azores Island St. Michel. Staying there a few hours we continued on our way to Lisbon, where we spent a day and a night, leaving early the next day for Jaffa, which is by no means a short run, but at last we arrived, the date being September 30th, 1921.
Three weeks on a boat when one is not a sailor is a long time, so I was very glad to see Jaffa. It is a very beautiful place to look at from the boat, which anchors about a mile from land, there being no harbor at Jaffa, just a straight coast line.
But after anchoring one is not so sure he wants to go ashore, for when you get a close up of the Arab and his small boat and hear his brothers howling at each another in a language that sounds like it came from the depths of hell, you wonder. And you wonder more at his dress, which is a night shirt with a red sash around the middle, his lid being a fez. This is the dress of the Arab boat man.
Undoubtedly you have heard that landing in Jaffa in a small boat is not all that it should be. Yes, that is true, but after riding on trains through that part of the country you do not think it is so bad, although when I reached the shore I was sure it was the roughest ride in the world.
The next scene is in the custom house and they sure are "on the set" at eight-thirty, for they lay for you in every corner of the place, especially for cinematographers with films and cameras. I am sure of that and if the director of the custom house had not spoken English I know I would have been there yet.
After getting a shot in the arm and having a fight with the Arab porter, for this gentleman wanted about ten dollars for his services of taking my trunk from the custom house to the hotel' about two blocks distant. I was sure Palestine was right up with the times, and doubly sure when an Arab, who was the proud possessor of a "Tin Lizzie", said he would take me to Jerusalem for about forty-five dollars, Jerusalem being only thirty-three miles away.
The next morning, I was a busy one as the train left for Jerusalem at eleven forty-five and I had learned by this time that if you want your baggage to go with you it must be put on the train hours before you leave, for if it does not accompany you that is the last of it.
Jerusalem is thirty-three miles by road and fifty-five by rail. The train takes six hours to make the run so when I arrived in Jerusalem it was dark, but it was a sight I shall always remember. The old wall of Jerusalem with Jaffa gate in front of me and every kind of face in the world passing through, with a light over all as strange as the faces and the thought of the history of it all, causes a feeling that no one could ever forget for it is the Holy City.
Sunday being the day after my arrival in Jerusalem made things work out very nicely for me, for, having nothing to do I went to the American Colony and was asked to have tea there, and it certainly seemed nice to be with American people once more. I will also say that if you are ever in Jerusalem and want help or want to buy something go to the American Colony or to American stores for they will surely do the right thing for you.
As for knowing the country, people and places of interest, the guide I had from the Colony was the best in Jerusalem for he had lived there for twenty years and spoke, Arabic, Hebrew, English and French.
Monday morning my guide had an assistant for me – he was an Arab boy but spoke some English and turned out to be a nice fellow, always on the job and strong as a horse. He would walk for miles carrying the camera, tripod and my small trunk, and never put them down. (The camera was a Pathé). He told me his lead was very light and I am sure it was for later I saw an Arab with a piano on his back. (I have a picture of it – will send it later of bring it, as I sure it will be interested).
Our first day's work was in the old city of Jerusalem and so we had to walk to all of our locations. The streets are only a few feet wide and very dark, but luckily most of the locations were in a kind of court like place and plenty of room to work.
At four o'clock the same day we made our way to the Jew's Waling Place, for it was New Year's Day, and there were hundreds gathered in a very small place making it impossible to shoot from any place but roof. There were plenty of good places above, but in Jerusalem it is almost impossible to get on a roof for the natives are very much afraid of a camera, but my guide came to the rescue (as he did many times after) and got a fairly good location after having a long talk with the owner of a very fine roof.
The Wailing Wall was soon shot, and we were walking back through Jaffa Gate, heading for the hotel just a short way off, in New Jerusalem, which is not a bad town at all. The hotel has electric lights, running water, and all modern conveniences, with a photofinishing place just across the street, where I ran my tests of my day's work and checked up on the light, finding that actinic quality was not as good as that of Egypt, where I later made tests.
At the time of year, I was in Palestine everything had about an inch of dust over it and the building are of dust color, so everything was very dull and dead looking. As for the possibility of good composition there is some, but you have to watch very closely, or you will not see it for only here and there is a tree or a curved line that will take off the hard look which things have.
Palestine is not very large, but there are a great many places to visit – Bethlehem, Hebron, Bethany, Jericho, and the Jordan and the Dead Sea – in all these places there are many things of interest to photograph and the photographic conditions are about the same in all, dry, hot, dusty, and very barren, the light being intense, but actionably poor.
There is only one place where I found a good actinic condition that was in Jericho, about twenty-one miles from Jerusalem, and the Dead Sea being only a few miles from Jericho, accounts for the better actinic condition there.
I had two weeks of very interesting work through Palestine on exteriors and interiors (I should not say interiors for that was impossible with the cinema), but I did make eight by tens by giving from thirty to sixty minutes' exposure. In the church of Nativity at Bethlehem, the manger was so dark that it takes a good hour exposure at F. 6.8.
At the present time that is all that comes to my mind in the photographic line, but there is one other subject I would like to speak about, that is he comedy one sees on every side. When you see an Arab with a small jackass and a load on that animal five times the size of the beast and the Arab trying with all his strength to push said beast through an opening three feet square you cannot help thinking of Mack Sennet and wonder what he would do if he were there with Ben and saw an Arab baker with pie plate shaped bread stacked on his head about five feet high and with a pail of water in each hand. I am sure there would be no need for a slow crank.
Just one more thing – Why was I sent so far from home?
Cecil De Freitas
"Exhibitors Trade Review", 11 January 1922, p. 469
[…] The Holy City is a Pathé color presentation, showing places of interest in Jerusalem, Palestine.
"Exhibitors Trade Review", 14 January 1922, p.469
Pathé Review No. 138 presents a series of interesting and entertaining subjects […] The Holy City To-day is a Pathécolor presentation, showing places of interest in Jerusalem, Palestine.
"The Film Daily", 15 January 1922, p. 17 (127)
Pathé Review No. 138, 1-reel magazine. A very thrilling episode is included in this number of Pathé review […]. The colored section deals with views taken in Palestine showing the Holy City as it is today.
"הפועל הצעיר", 20 בינואר 1922, ע' 16
- הלשכה הראשית של קה"ק רכשה מאת הפוטוגרף הידוע מר בן-דוב, ירושלים, פילם חדש בשם "ארץ-ישראל המתחדשת". הפילם הוצג לראווה בראשונה בעת הקונגרס בקרלסבד ואחרי שלא התאים בכל פרטיו למטרות הקה"ק הוכנסו אליו שינויים וצילומי מילואים רבים עפ"י הוראות ההנהלה בהאג ובאות כוח הקה"ק בא"י. מלבד התמונות מהחיים הציבוריים והמדיניים בא"י נותן הפילם עכשיו תיאור נאמן ומלא מהעבודה החלוצית של הקה"ק עד כה ומעבודתה היישובית הרחבה המתחילה עכשיו. הפילם נחלק לארבעה חלקים, והם: א) ירושלים, ב) מומנטים שונים, ג) החלוצים בארץ-ישראל, ד) עבודות על הקרקעות של הקה"ק בא"י (בייחוד בעמק יזרעאל). באמצע נובמבר נגמרה עבודת הצילומים ועכשיו מוכנות העתקות, שתוצגנה לראווה בכל הארצות. הפילם ישמש תעמולה רבת ערך לקה"ק בקשר עם חגיגות היובל בהמלאות עשרים שנה.
"היינט", 20 בינואר 1922, ע' 8
אנ'ארץ-ישראל-פילם פאר'ן נאציאנאל-פאנד /
דאָס הויפּט-בּיוּראָ פוּן איִדיִשען נאַצ. פאַנד האָט אבּגעקוֹיפט בּיים בּעוואוּסטען פאָטאָגראַף ה' בּן-צבי [צ"ל: בן-דוב] פוּן ירושלים אַ נייעם פיִלם פוֹן ארץ-ישראל, וועלכער איִז דעמאָנסטרירט געוואָרען צוּם 1-טען מאָל איִן קארלסבּאַד אויפ'ן קאָנגרעס אוֹנטערן נאָמען "שיבת ציון", יעצט זענען אין איִהם געמאַכט געוואָרען אייניִגע פערבּעסערוּנגען לוֹיט די אָנווייזוּנגען פוּן הוֹיפט-בּיוּראָ אוּן עס ווערען געמאַכט פוּן איִהר אייניִגע קאָפּיעס, כדי גלייכצייטיִג צוּ קענען דעמאָנסטרירען איִהם איִן פערשיִדענע לענדער. / איין קאָפּיע וועט דיִ לאַנד-צענטראַלע איִן פּוילען אוֹיך בּעקוּמען אוּן איִהם וועלען קענען אוּיסנוּצען אלע נ. פאנד קאָמיִסיעס צוּ אַגיטאציאַנס-צוועקען אז צוּ פערגרעסערען די נאַצ. הכנסות. / דער פילם ווערט איינגעטיילט אין 4 טיילען: 1) ירושלים, 2) מאָמענטען, 3) חלוצים איִן ארץ-ישראל, 4) אַרבייט פוּן דעם נאַצ. פאַנד-בּאָדען איִן א"י (איִבּערהוֹיפּט איִן עמק-יזרעאל) [...]. / וועגען די בעדינגונגען און וועגע בּעשטעלוּנגען וועלען קומען בעזונדערע מוֹדעות, נאָכדעם ווי מיר וועלען דעם פיִלם בּעקוּמען.
"דאר היום" 25 בינואר 1922, ע' 3
המלך הרועה או דוד וגלית
בימים האלה הגיעו לירושלם ומאכסנים במלון אלנבי כעשרים איש באי כוח חברה אמריקנית גדולה "פוקס פילם קומפני" שמטרתה היא לצלם בארץ-ישראל סרטים לראינוע שבו יציגו את המחזה התנ"כי דוד וגלית. הם יצלמו את כל המקומות ההיסטוריים שבהם קרו המאורעות הללו, יעסיקו ארבע מאות גמלים, כשלושת אלפים איש, 500 סוסים וכל הצבא הנמצא בירושלם. כל התמונות הללו תעלינה לחברה בסך יותר ממיליון דולר. שם ההצגה יהיה: המלך הרועה או דוד וגלית. בין האנשים שבאו ירושלימה לתכלית זו ישנם גם יהודים אחדים והם יישארו בארצנו עד הט"ו לפברואר ש"ז. הם הביאו איתם כשלוש רכבות מלאות בגדים וצורכי הלבשה בשביל הסרטים שיצלמו, והממשלה נתנה להם כל מיני הקלות. בראש החברה עומד יהודי חוקר-עתיקות שהיה בארצנו לפני המלחמה למטרות מדעיות ושמו מר ספירשטיין. ראשי החברה הם ג. אדוארד[1] ומר קרלוס.
"הפועל הצעיר", שלישי בפברואר 1922, ע' 17
[...] שבוע החנוכה נקבע בפולין ל"שבוע ההתאחדות" בכול המקומות. חברים אחדים של הוועד המרכזי יצאו לבקר את הסניפים. בוורשה נפתח שבוע החנוכה במיטינג עממי גדול עם הצגת הפילם "א"י החדשה".
"The Mercury" (Hobart, Tas.), 6 February 1922, p. 3
FILMS OF THE WAR
No better means of educating the people of Australia of what actually took place in France and Palestine during the ALF.'s four years of fighting could be devised than the programs which the Australian War Museum has arranged at the City-hall, Hobart, to commence on Saturday next. Vivid battle lectures by A-I.F. leaders and war correspondents, illustrated with uncensored official pictures and films, taken during the actual fighting, go more towards bringing forcibly home to those who were unable to go abroad just what did happen than years of reading could teach. No army engaged in the war, perhaps, has so complete a record as that which the Australia War Museum possesses of the AJLF. The material, which is most appealing of all, is contained in 20,000 photographs and 50,000 feet of cinema film, on which the performance at the City-ball will be based. These films, which will be shown in complete form and uncensored, are the recognized masterpieces of those intrepid camera wizards, Captain Frank Hurley and Captain G. H. Wilkins, whose names are known to most of the world, because of their association with Polar expeditions. In France, Hurley and Wilkins (the latter of whom won his decorations for amazing daring with the camera) competed in taking shell bursts at a few yards range. These men were specially appointed by the Commonwealth Government because it was recognizing the could be relied upon to bring back a living film record of the A.I.F., and that they would always he where "something was doing." After a period in France Captain Hurley went to Palestine and secured a unique set of films and photographs of the Australian Light Horse in the romantic setting of the Holy Land. Captain Wilkins remained in France, and in the final advance of 1918 carried his cinema machine during many great days abreast of the first triumphant waves of Australian infantry. The result is a peerless collection of thrilling films of real action. These unique films should in themselves ensure a highly successful season in Hobart. Throughout the capital cities of the mainland they created sensational interest, and the box plan had filled several days before the opening of each performance. The speakers are giving their services gratuitously, and all proceeds will be devoted to war memorials. The Diggers of Hobart will probably appreciate the opportunity to take their friends, and as the pictures are shown, point out the many places and the conditions, always stern and sometimes I am sporting, in which they "did their bit for Aussie." The battle picture season is for four nights only.
"דאר היום", שביעי בפברואר 1922, ע' 3
החברה "פוקס פילם קומפני" / ביום השישי והשבת ראו תושבי ירושלם על ההרים מסביב מחנה גדול של אנשים מלובשים בתלבושות בדואים, רגליים ורוכבים ובתוכם גם הרבה סוסים, גמלים, חמורים וצאן. רבים פחדו מזה, אבל זה היה המחנה של החברה "פוקס פילם קומפני" שבאה לא"י במטרה לצלם מקומות שונים לצורך סרט-ראינועי של דוד וגלית, כפי שכבר הודענו לפני שבועות אחדים. האנשים שנשאו תלבושת בדואית היו אנשי-צבא שהממשלה מסרה לחברה לצרכיה.
"דאר היום", תשיעי בפברואר 1922, ע' 3
ירושלים יום-יום / חברת הראינוע דוד וגלית
הרפתקאות שונות עוברות על חברת "פוקס פילם קומפני", שבאה ארצה ישראל לצלם צילומים לשם החיזיון "דוד וגלית". אחרי שהופרעה עבודת החברה ע"י החומה, נסעו באי-כוחה ליריחו ורצו לצלם שם תמונות היסטוריות שונות. הם השתוו עם מאות ערבים והללו היו צריכים להשיג להם מספר ידוע של גמלים וסוסים. אחרי שהיה הכל מוכן והמכונות הועמדו לצלם – התחרטו הפלחים ודרשו מחיר גדול פי חמש מהמחיר שעליו השתוו מקודם עם באי-כוח החברה. / ב"כ החברה נאות לשלם כפליים ממה שהשתווה עם הפלחים, אך אלה לא הסכימו והעבודה הופרעה. / אח"כ באה החברה במשא ומתן עם האמיר עבדאללה, מושל עבר הירדן, והלז הבטיח שישיג להם כל מה שהם רוצים: אלף גמלים וארבע מאות סוסים ואלף ערביים. בבוא באי-כוח החברה לעבר הירדן, חילקו לערבים את הנשק העתיק וכשהיה הכל מוכן, והמכונות התחילו לצלם, התחילו הערבים לעשות פנטזיה ויברחו עם הנשק. / האמיר עבדאללה הצטער מאוד על זה, ויזמין את באי-כוח החברה לארוחה ויביע להם את צערו על כל מה שקרה; ובאי-כוח החברה חזרו כלעומת שבאו.
"The American Cinematographer", 15 February 1922, p. 8
Attention, Travel Yanks! / Motion Picture Laboratory in Jerusalem / by H.T. Cowling, A.S.C. / Jerusalem may be old and it may seem to the average worker about the last place to establish a moving picture laboratory, but not so; they have "the bug" and away out there in the Near East (if you think it's near, think again) they have a full-pledged motion picture laboratory, drums 'n everything. / The fact that all the drinkable water in the Holy City is brought hundreds of miles from the Nile river, under the Suez canal, across the wilderness of sand and desert, in pipes laid by the British in their Palestine campaign against the Turks (praise Allenby), has made it possible not only to have a bounteous supply of good drinking water, but sufficient to operate a motion picture laboratory. / One by one the Yank travel picture artists have filtered in and out the Holy Land taking their allotted footage and returning to European cities to develop their takes, but not without leaving an impression on the courteous ones who patiently watched while the Yank cameramen stole their thunder and cashed in on it. But that's an ancient history now, because those energetic souls in Jerusalem have decided that they are going to cash in on some of their own stuff and are preparing to film the all wilderness from Gaza to Bethsheba. / The accompanying illustrations were received by the writer from the American Colony in Jerusalem to show the interior of their new laboratory.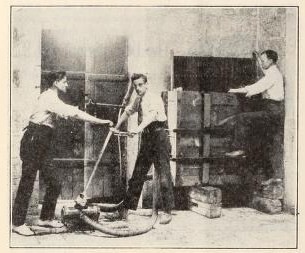 "Libausche Zeitung" (Latvia), 15.02.1922, p. 2
Ben d. Zionistischen Organisation werden wir um die Aufnahme folgender Zeilen gebeten. Am 18 Februar findet im Saale der "Kadima" der traditionelle Zionisten - Abend statt. Die Gesinnungsgenos - sen werden ersucht sich rechtzeitig beim Sekretariat mit Einladungskarten zu versorgen, da die Zahl sehr beschränkt ist und keine Billete zum Verkauf kommen.
הודעה על הצגת סרט ציוני בעיר Libau לטוויה.
"Motion Pictures News Booking Guide", 1 March 1922, p. 8

"The Morning Tulsa daily world" (USA, Okla.), 2 (p.7), 3 (p.9), 4 (p.13), 5 (p.3), March 1922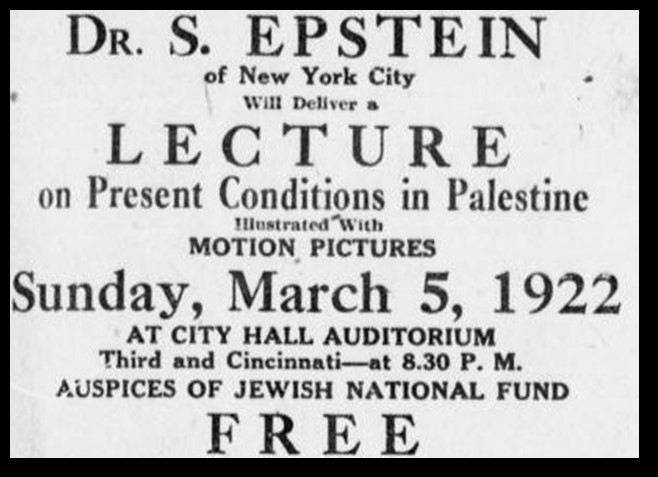 "Presburger Zeitung" (Slovakia), 10.03.1922, p. 4 /11.03.1922, p. 8 / 12.03.1922, p. 10
Filmnachrichten. Der "Schiwat Zion und Kongreßfilm" in Preßburg. Für die Erstaufführung in der Slovakei des Schiwat Zion und Kongreßfilmes Sonntag, den 12. d., vormittags 11 Uhr in der "Urania" herrscht lebhaftes Interesse in allen Kreisen der Bevölkerung. Der Film ist eine ebenso lehrreiche als hoch spannende Naturaufnahme. Wer wollte sich nicht mit eigenen Augen überzeugen von der durch jüdischen Geist und jüdische Kraft geschaffenen Werke in Palästina. Aus dem mannigfaltigen Inhalt des 2000 Meter langen Films wollen wir nur herausgre fen: Die Feld und Erdarbeiten der Chaulizzum (Pioniere), Züge jüdischer Legionäre, der jüdische Held Jabotinsky mit seiner Truppe, Bau von Straßen und Häusern, Anlegung von Plantagen, Ausgrabungen von Altertümern, Einzug des Heigh Kommissärs Sir Herbert Samuel in Palästina, Begrüßung durch viele Korporationen, darunter durch den Vertreter der Ortodoxie, des weltbekannten Gaon Rabbiner Sonnenfeld aus Jerusalem u. a. m. such der Film des 12. Zionistenkongresses, der sich anschließt und der auch das Schauturnen in Karlsbad zeigt, dürfte Sensation erregen. Es möge niemand verabsäumen, diesen Film von großem kulturhistorschen Wert, der über Initiative der englischen Regierung und der zionistischen Kommission ausgenommen wurde, zu besichtigen. Karten zu den gewöhnlichen K' nopreisen sind zu haben im Vorverkauf bei den Firmen Weiß Bernat. Masarykplatz, Groß-Fischer, Venturgasfe und A. Schwarz, Kapuziner-straße, sowie Sonntag, den 12. d., vormittag ab 9 Uhr an der "Urania" Kassa, Heumarkt. Die zionistische Lokalorganisation
"דאר היום", 13 במרץ 1922, ע' 3
תעודת הצטיינות בעבודת סרטי ראינוע
בן-עירנו מר י. בן-דוב קיבל תעודת הצטיינות מהפירמה היותר גדולה בעולם "פוקס- ניו-יורק – רומה", על הצטיינותו בצילום התמונות הגדולות בעבר לירדן מזרחה בהסתערות נוראה של אלף וחמש מאות פרשים, תיאור של מלחמה תנכ"ית בימי דוד. עדי ראייה שהיו שם וביניהם האמיר עבדאללה לחצו את ידי הצלם האמן מר בן-דוב והתפעלו מעבודתו היפה. גם אנו מצדנו אומרים לו יישר כוח!
"The Advertiser", 14 March 1922, p. 8
A BIBEL FILM
The American Fox Film Corporation began on January 19 taking kinema pictures near the Sphinx and the Pyramids for the film "The Shepherd King", by Francis Lorimer. Scenes representing the exodus of the Israelites were taken, in which more than a thousand natives and several hundred camels were employed. Further pictures are to be completed in Palestine.
"The Film Daily", 19 March 1922, p. 19 (540)
"Vistas of the Holy Land" – Kineto Review / Type of production…. 1-reel travel / "Vistas of the Holt Land" is a very timely little reel and will make good filler for an Easter program. As the title tests, the reel is composed of views taken in and about the Holy Land. You see the plains of Jericho, the river Jordan, the Dead Sea, the Mountains of Moab, the walls of Jerusalem and the Tower of David. Besides this, natives of many nationalities are shown in picturesque costumes. Wailing Wall and the Temple of Solomon are also pictured. The final shots are taken in the Garden of Gethsemane, where Christ is supposed to have met His disciples on the eve of the crucifixion. The garden is now owned by Franciscan Monks. The entire reel is filled with glorious subject matter and will be well received for Easter.
"The Film Daily", 21 March 1922, p. 1 (590)
The Associated Press reports that a company of American film players is at work in Jerusalem, filming the Old Testament story of King David. The big scene, the report says, is to be the fight between David and Joliaht [Goliath]. The report adds the Biblical accuracy will not be strictly adhered to, since the scenario provides of a love scene after the battle. About 5000 people are to be used in the mass scenes.
"The Ogden Standard-examiner" (USA, Utah), 22 March 1922, p. 4
Jerusalem. March 10. – Twenty stars of the American film world arrived in Jerusalem recently to prepare for the filming of the Old Testament story of King David. About 5,000 persons are to be employed in the filming of the play. Five thousand sheep, 1,000 camels and 2,000 goats are also to be used. This will be the first time a production of this magnitude has been filmed in the Holy Land. Apart from the appropriateness of the country for the filming of Biblical stories, it is declared that Palestine is unsurpassable for film productions owing, first to its natural beauty, and second to the clarity of the atmosphere.
ראו גם:
"The Evening Herald" (USA, New Mexico), 22 March 1922, p. 14
"Evening star" (Washington, D.C.), 22 March 1922, p. 14
"The World News" (U.S.A., Virginia), 22 March 1922, p, 2
"The Edmonton Bulletin" (U.S.A., CA), 23 March 1922, p. 12
« Cinéa », Avril 1922, p. 6
Au Berceau du Monothéisme – merveilleux voyage en Egypte et en Palestine, constitue un documentaire absolument unique au monde et susceptible d'intéresser prodigieusement tous les publics sans exception.
Cette production commence une remarquable série documentaire et historique sur les pays qui ont vu la naissance des religions chrétienne et islamique. / Cette série représente un des plus grands efforts faits jusqu'ici en faveur du film français de documentation. / Au Berceau du Monothéisme sera présenté incessamment à MM. les Directeurs par la Compagnie Français de Films Artistiques-Jupiter, 36' avenue Hoche, Paris.
« Cinéa », Avril 1922, p. 16
Société Française des Films Artistiques / Au Berceau du Monothéisme
Documents intéressants. Egypte et Palestine, une foule à Jérusalem, des ruines, Bethléem, avec, pour commentaire, un rappel du Nouveau Testament.
"The Film Daily", 1 April 1922, p. 4 (615)
After Holy Land Scenes / Harry Levey states he is sending an expedition abroad this month to secure scenes in Egypt and in the Holy Land for a series of pictures. M. J. Wiss is to be in charge.
"New York Tribune", 9 April 1922, p. 6
Harry Levey Will Send Expedition to Holy Land / Harry Levey, president of the National Non-Theatrical Motion Pictures, is sending a motion pictures expedition to Egypt and the Holy Land to secure a series of Biblical, historical and geographical films to form a comprehensive film record of the sacred and historic places of Egypt, Palestine and Mesopotamia. / The expedition, which starts this month, will be in charge of M.J. Wiss, of California, who has had a long and varied film experience and is an expert camera man […] These films will be fitted into the World Geography Series being build up by National Non-Theatrical for use in public schools, churches, colleges and clubs.
"דאר היום", 11 באפריל 1922, ע' 2
שלטון אנגליה בא"י / מאת פיליפ גרייבס
[...] אולם, כשנדמה להם כי פוגעים במשהו במושגיהם וברגשותיהם הדתיים – אזי גם הפלחים וגם העירוניים מוכנים הינם להסתערות הרוחות ולהתפוצצות הרגשות [...] בימים האחרונים זכתה שוב ירושלם לדוגמה טיפוסית של ההסתערות הערבית. חברת הראינוע האמריקנית הידועה בשם "פוקס" סידרה תהלוכה לצייר לפני הקהל את כניסת דוד המלך לעיר יבוס אחדים מהערבים אשר במזרח הירדן, ואתם פלחים מהסביבה ואנשי-צבא אנגלים, שהושאלו לחברה לשם עריכת תהלוכה זאת, התלבשו בבגדים מקושטים, בכפתנים ובעבאיות ארוכות והחלו לחדור לשער-דמשק, כשפרשים על סוסיהם הערבים וברומחיהם העשויים מעץ מלווים אותם בתהלוכתם זאת. כל ירושלם השתתפה בתהלוכה הזאת והכל השתלשל בשלום עד שפתאום הכיר אחד האיכרים מהסביבה באחד מערביי התהלוכה את האיש השייך לכפר האויב וכפרו הוא. ברגעים אחדים נתהפכה תגרת שני אלה לידי מהומה כללית, וחלק גדול מהחוזים במחזה השתתפו בה. אבנים נזרקו לכל צד. לבושי הבגדים המקושטים נמלטו על נפשם. הוכרחו לתת מיד פקודות לגדודים האנגלים להיות מוכנים לכל מקרה, והמשטרה הוכרחה להתחמש בכל כוחה בשביל להכניע את המתגרים ולפזרם [...].
"Evening public ledger" (USA, PA), 15 April 1922, p. 12
The Holy Land is to be Rival to Hollywood
A cable dispatch received this week from Jerusalem announces the arrival of an American motion-picture expedition to prepare for the filming of a spectacle based upon the Old Testament story of King David One of the big scenes in the production, it is said, will be the fight between David and Goliath, which will be staged a few
miles north of Jerusalem. Many thousand inhabitants of Jerusalem are to be employed in filming the play. One thousand camels and thousands of sheep and goats will also be used. This will be the first time that a production of any magnitude has been filmed In the Holy Land, which, aside from its appropriateness as a bock back ground for biblical stories, is said to rival Hollywood for natural beauty and for the clarity of Its atmosphere. The expedition referred to in the cable, was sent out by Fox, and is in charge of Abraham Carlos and J. Gordon Howards, who recently finished work in Italy on a production dealing with the life of Nero, in which vast numbers of people took part, and which was photographed with some of the most historic structures and scenes in Italy as a background. In making this picture they had the co-operation of the Italian Government, and Italian troops were assigned to help control the multitudes who took part in the production. For the picture made In Italy, and for the one new being filmed in the Holy Land, the Fox organization engaged the services of some of the most distinguished players In Europe. While casts and international, the direction and the technical work on both pictures are entirely American.
הידיעה, בשינוי נוסח לא רב, מופיעה גם בעיתון:
"New-York tribune" (USA, NY), 02 April 1922, p. 50
"The Ogden standard-examiner" (USA, Utah), 16 April 1922. P. 6
Egyptian Movie / Abraham Carlos and J. Gordon Edwards are now in Jerusalem filming a spectacle play based on the Old Testament story of King David. The big scene will be the fight between David and Goliath. Thousands of extras, 1000 camels and thousands of sheep and goats will be used in other scenes. Several European players will appear in the leading roles. The film will be released in America by William Fox.
"The Film Daily", 20 April 1922, p. 2 (751)
Here with Bible Films / Edward B. Russell, director of distribution of the Geographic Film Co., Inc. of Cincinnati, is at the Hotel Pennsylvania. He is here to arrange distribution on two series of Bible films. One is called "The Sacred Land Series" and is composed of 45 reels and the other, "The Voice of the Land", in 45 reels. Nine months were spent in making the films, which were actually shot in Palestine.
"The Bismarck Tribune" (USA, N.D.), 26 April 1922, p. 4
Filming Bible stories / Undaunted by the previous failures in filming Bible stories – or perhaps unaware of them – an American motion picture producer has taken a group of Hollywood actors to Jerusalem to play the leading parts in a film dealing with the life of David […].
"Bnai Brith Messenger" (USA, Cal.), 5 May 1922, p. 5
PALESTINE SCENE OF GREAT MOVIE DRAMA
Fox Film Company Making Biblical Picture near Jerusalem
An American invasion of much interest took place recently when about twenty stars of the Fox Film Company of America arrived in Jerusalem to make preparations for the filming of a spectacular film depicting scenes from the Bible. The company proposes to take the main scenes in Palestine, returning to their studios in Rome to complete the final details of the picture. Some idea of the vastness of the undertaking will be obtained from the fact that it is proposed to employ some 3000 footmen together with 500 riders in one of the scenes. Other properties will include 5000 sheep, 5000 camels, herds of goals, etc. The big scene, i. e. the fight between David and Goliath, will be taken near the main Jerusalem Ramellah Road, but historical accuracy is not being strictly adhered to, since the scenario accuracy is not being strictly adhered to. Since the scenario provides for a love scene after the battle. Four truckloads of properties have been brought to Palestine, including uniforms, for each of the 3.000 soldiers who will take part. This will be the first occasion that a large and important production has been filmed in Palestine, which apart from its appropriateness for the filming of Bible subjects, is probably unsurpassable for film production owing to the natural beauties of the country and the extraordinary clarity of the atmosphere. The advantage of staging the production of a Biblical theme in the original setting requires no emphasis.
: "Ohio Jewish Chronicle", 07.04.1922, p.1 Also
"Auckland Star" (NZ), 6 May 1922, p.18
American producers are beginning to discover that they have worn out the Wild West; the green carpet is threads bare, the shacks and dancing saloons are decayed; even the "guns" refuse to go off. So, Fox has gone to Rome, Cairo and Palestine for inspiration. "Nero" has already been filmed - fiddle and flames included. Now "the Shepherd King" is being staged in Palestine, where the Bedouins will replace cow punchers and rough riders. A few hundred camels and donkeys play small parts. The Movies have indeed proved a new terror to the animal world.
"The Film Daily", 8 May 1922, p. 6 (885)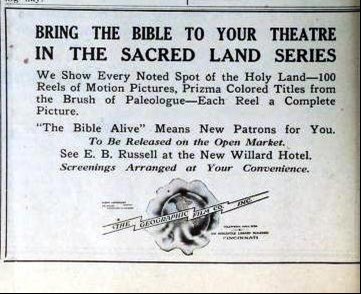 "The Evening World" (USA, New York), 9 May 1922, p. 28
Interest is being aroused by the advance on Palestine by American film interests, there to make spectacular film scenes from Biblical stories, says a report to the Palestine foundation Fund of No. 65 Fifth Avenue, which has already raised $500,000 of the $3,000,000 fund for the rebuilding of Palestine as the Jewish homeland. One company is busy shooting scenes incidental to the fight between David and Goliath. They are using 3000 footmen, 500 riders, 5,000 sheep, 500 camels and a pack of Fatimas.
"דאר היום", 25 במאי 1922, ע' 2
סרט א"י באירופה / העיתונות הברלינית מביאה הרבה פרטים וביקורת נעימה על הצגת הסרט "א"י המחודשת" מיצירתו של מר בן-דוב, ע"י הקרן הקיימת. הקה"ק עושה בזה תעמולה חשובה מאוד לעבודתו בא"י. העיתונות מעריכה בהזדמנות זו את עבודת הקה"ק בא"י לערך תרבותי ממדרגה ראשונה: 'הסרט הזה מראה איך נהפכים שדות וחורבות לארץ נושבת, והיהודי הגלותי יוצר ואיך ניתנה לעם נודד – מולדת. כן מפתיע הסרט הזה במרץ הכביר שמראה היהודי הצעיר בא"י, התמסרות החלוצים והחלוצות לעבודת הבניין של הארץ והסתגלותם לחיים חדשים'. כל זה נותן לסרט הזה ערך חינוכי חשוב מאוד ליהודי הגולה
"מארגען זשורנאל", 25 במאי 1922, ע' 7
דעד בעקאנטער פאָטאָגראפיסט פון ירושלים בן-דוב פון די געוועזענע מייסטער פון בצלאל שוהלע, איז דיעזע טעג אויפגענומען געוואָרען אלס קאָרעספּאָנדענט אין ארץ ישראל פון דער אמערי־קאנער בילד קאָמפּאניע פאקס ניוס, צו מאכען פאר איהר סינעמא-פילמס פון ארץ ישראל ר נייעס און אלטען לעבען. מר בן דוב האָט געארבייט מיט דיא פערטרעטער פון דיזע קאָמפּאניע ווען זיי זיינען דאָ מיט צווי מאָנאטען צוריק געווען אין א גאנצע גרופּע אום צו נעהמען אלטע היסטאָרישע בילדער, און מר. בן-דוב האָט זיי באוויזען, אז ער ארבייט אויפ'ן בעסטען מאָדערנסטען אופן.
"The evening world" (USA, N.Y.), 26 May 1922, Wall Street Final Edition, p. 36
Helen Llndroth,[2] movie actress, claims she made the longest "Jump" ever made in order to fill a movie engagement. She was working in Jacksonville, Fla., and Jaunted over to Jerusalem to appear in another film.
"Nieuwe Rotterdamsche Courant" (NL), 08.06.1922, p. 1
Het Joodsch Nationaal Fonds
Gisteravond heeft het Joodsch National Fonds een jubileumavond gehouden [...] Na de pauze werd de Joodsch-Palestina film vertoond. Na de aankomst van de kolonisten in de haven van Jaffa zag men, hoe het land verdeeld en ontgonnen wordt; keten worden gebouwd. Later worden er huizen gezet. Dan de voltooide kolonie, waar men bezig is met het binnenhalen van den oogst, waar sinaasappelen worden geplukt, gesorteerd en versakt waar de drniven worden geoogst en tot wijn verwerkt in het tweede gedeelte vande film verschenen op het doek eenige andere kolonies en verder verschillende takken van landbouw en veeteelt, amandeloogst, bijeenteelt, fokkerij van pluimgedieerte, enz., waarmee de Joddsche koloniste zich bezig houden. Ten slotte enkele punten van het Jordaan-landsschap.
"The Daily News" (Perth, WA), 9 June 1922, p. 7
It is reported that a company of American film players is at work in Jerusalem, filming the Old Testament story of King David. The big scene is to be the fight between David and Goliath. The report adds that Biblical accuracy will not be strictly adhered to, since the scenario provides for a love scene after the battle. About 5,000 people are to be used m the mass scenes.
"The Film Daily", 14 June 1922, p. 1 (1262)
German Unit on Long Trip / Berlin – The Allen Richter Co. has sent an expedition to Palestine and the Balkans in search of material for future use.
"The Film Daily", 15June 1922, p. 1
"Ben Hur" to Goldwyn […] the picture will be made partly in Italy and Palestine and partly at the Goldwyn Studios in Culver city, California […].
"Cambridge Tribune" (USA, Mass.), 17 June 1922
MAYOR WILL GIVE SCHOOL CHILDREN A THEATRE PARTY
Receives 40,000 Burton Holmes "Round The World" Coupons Entitling Cambridge Youth To See Great Educational Picture At Tremont Temple At Reduced Rate […] the film contains many views of special interest to all — the cathedrals in France and Italy, St. Peters and the Vatican, and the holy places in Palestine, England, France, Italy, Egypt, Turkey, Java, Slam, Philippines, Japan, back across the Pacific to Vancouver and to old Boston, whose historic spots am l present day activities are shown during the last half-hour of the show.
"דאר היום", שביעי ביולי 1922, ע' 3
תיאטרון "ציון" [...] הפירמה Fox סדרה זה לא מכבר את צילום הפילם החדש "דוד וגלית". גיבורת הדרמה היא משחקת יהודית טדא בארא שהצליחה בפילמים המפורסמים קליאופטרה ושולמית.
"הפועל הצעיר", 26 ביולי 1922, ע' 17
אל כל הלשכות הארציות של הקה"ק [...] חומר תעמולתי למפעלינו. בעת קיבוצי הכסף בתשרי יש להקדיש תשומת לב מיוחדת לתעמולת הקה"ק [...] בשביל אספות עם יש להשתמש במרכזים הגדולים ביותר בפילם הארץ-ישראלי של הקה"ק, כפי שהראה הניסיון הראשון כוחו יפה בתור אמצעי תעמולה מצוין וגם בתור מקור של הכנסה הגונה. גם תמונות-האור לפנס-קסם שהוצאנו זה עתה לאור בסריות בנות 118 תמונות, טובות למטרה זו עד מאוד.
"South Bend news-times" (Indiana), 19 July 1922, p. 13
Secrets of the Movies Revealed […] Q. - Where is the picture play of Ben Hur to be filmed? / A. – The picture play will be filmed in Palestine, Italy and Culver City, California.
"Camera", 22 July 1922, p. 4
The Goldwyn production of "Ben Hur" will be made partly in India and Palestine and partly in the Goldwyn studios.
"דער מאמענט", עשירי באוגוסט 1922, ע' 2
ידיעה המביאה את האיסור שהטילו שלטונות המנדט על הצגת הסרט "חיי הרצל", בנימוק שאחרי מאורעות 1921-1920 יכולה הקרנתו לעורר שוב את מהומות הדמים.
"Karpathen Post" (Slovakia), 21.08.1926, p. 2
Ein Palestina film wurde am 10. August durch den biesigen Zionverein Hatikvoh im Lichtbildtheater Tatry aufgeführt. Der Film, welchen die Palestina-Aufbau Kommission herausgegeben hat, ist eine Originalaufnahme der in Palästina bis zur Eröffnung der jüdischen Universität vollbrachten Arbeiten. Die Vorstellung, die einen überaus interessanten Einblick in die Berhältniffs der neu aufzubauenden jüdischen Heimstätte bot, war sehr schwach besucht.
ככל הנראה, ידיעה על הצגת סרט של בן-דוב, המשבחת את הסרט כ"מעניין ביותר".[3]
"דאר היום", שביעי בספטמבר 1922, ע' 4
עבודת הקרן הקיימת לישראל בשנת 1921 [...] ואשר לתעמולה [...] הכינונו פילם ארץ-ישראלי הנשלח לכל הארצות. פילם זה עלול לעורר בלב כל שדרות העם חיבה יתירה לארצנו וגם להפיץ ידיעות נכונות עליה.
"The Abilene Reporter", 17 September 1922, p. 4
Movies for Churches / From the Dallas News
The business of movie less churches has got to stop. It's all burning shame, these 10,000 movie machines without any films, according to Graham Patterson, publisher of the Christian Herald […] Accordingly a Christian Herald Motion Pictures Bureau has been organized and is making films, or soon will be making them, Mr. Patterson tells the New York Herald. In fact, the bureau already has one picture on the way to completion. It is a little thing of fifty-three reels, taken in Palestine and Egypt. It isn't a "million-dollar picture". Instead it is a $3,000,000 picture. And there are 10,000 in some of the scenes, we were told. Although it is a religious picture, Mr. Patterson contends that it should interest everybody.
"Motion Picture News Booking Guide", October 1922, p. 8
After Six Days. Produced by Armando Vay; Distributed by Weiss Brothers – Artclass Picture Corp; Released Aug. 31, 1922; Director Antonio Pierro Gariazzo. Length: 11 reels. / Synopsis: biblical spectacle, depicting story of the Old Testament, beginning with Adam and Eve in the Garden of Eden and ending with the Songs of Solomon. The story of Cain and Abel, the building of the Ark, Tower of Babel, destruction of Sodom and Gomorrah, story of Joseph and his brethren are among the incidents portrayed. Many of the scenes were taken in the Sahara Desert, Babylonia, Mesopotamia, Egypt and Palestine. Customs and manners of Biblical times are shown.
"Press" (NZ), 6 January 1922, p. 5 / 7 January 1922, p. 12 עוד ראו:
"היינט", שישי באוקטובר 1922, ע' 4
ארץ-ישראל נאכ'ן מאנדאט.
אין אנוועזענהייט פון פּרעסע-פאָרשטעהער און פיעל פאָרשטעהער פון ציוניטישען קאָמיטעט אין נעכטען דעמאָנסטרירט געוואָרען אין קינאָ "ווענוס" (דזיעלנאַ 1) אַ נייער פילם א.נ. "ארץ-ישראל נאָכ'ן מאַנדאַט", אין וועלכען עס ווערט געֶשילדערט (אין 6 טיילען) דאָס לעבען אין ארץ-ישראל פון די לעצטע צייט, די חלוצים ביי דער אַרבייט, די בליהענדע קאָלאָניעס פון ראשון לציון, זכרון יעקב, בצלאל, די נייעסטע אויסגראָבונגען פון אַלטערמליכקייטען, די מאַניפעסטאַציעס מיט אנטייל פון הערבערט סעמיועל, מיניסטער טשערטשיל, ווייצמאַן, סאָקאָלאָוו א. א. דאָס אַלעס מאַכט אויפ'ן צושויער אַ זעהר ערפרעהענדען איינדרוק. דאָס בילד וועט די טעג דעמאָנסטרירט ווערען אין "ווענוס" מיט אַנטייל פון דעם בעקאַנטען אַרטיסט און זינגער ה' אַבעלמאַן אין בעגלייטונג פון אַ כאָר, וועלכער וועט אויספיהרען די שענסטע אידישע און העברעאישע לידער.
"The Film Daily", 13 October 1922, p. 1(852)
"The Shepherd King", filmed in Palestine, by J. Gordon Edwards,[4] will be the second Fox production to be at the Astor.
"דער מאָרגען זשורנאַל" , 13 באוקטובר 1922, ע' 10
נאציאָנלפאָנד נייעס // נייער נאציאָנאלפאָנד פילם אָנגעקומען // די נייע ארץ ישראל מאוווינג פיקטשורס, וועלכע זיינען ערווארטעט געוואָרען זייט א לענגערע צייט. זיינען אנגעקומען דעזע וואָךּ. ויי עגטהאלטען די נייעסטע בילדער, כמעט אלעם וואָס איז זזערטה צו זעהן אין ארץ ישראל דיעזע בילדער וועלען בלי םפק דיגען אלס אן אויסגעצייכענט מיטעל פאר ציוניסטי־שער פראפאגאגדע. דער פילם וועט געוויזען ווערען צום ערשטען מאָל אין ניו יאָרק, זונטאג אבענד, מוצאי שמחת תורה, דעם 15טען אקטאבער, אין פאבליק סקול — 55 וואשינגטאָן עוו. און סט.פאול פלייס, בראָנקס, וואו א מאסמיטינג מיט דר. בער עפּשטיין נאלס הויפּטרעדנער וועט אָבגעהאלטען ווערען אונטער דעד אויפזיכט פון 12טען ציוניסטישען דיסטריקט; מר.מאריס מרגלית וועט סיין טשערמאן.
בהמשך הכתבה, על הצגות נוספות של הסרט.
"פארווערטס", 29 באוקטובר 1922, ע' 2
/ קטע מכתבה על המצב בא"י, ביקורתית למדי /
דאַן האָט מען הערבערט סעמועלס רעדע איבערזעצט אין די איבעריגע צוויי אָפיציעלע שפּראַכען פון לאַנד – פריהער אין דער אַראַבישער, נאַכהער אין דער העברעאישער. דער אידישער פאָטאָגראַף בן-דוב פאָטאָגראַפירט די גאַנצע סצענע פאַר דעם קינעפאָטאָגראַף (מואווינג פּיקטשורס): די ציוניסטישע און אידישע וועלט אין אַלע גלות-לענדער זאָל דאָס קענען זעהען און זיך פרעהען, ווי אַזוי דער איד הערבערט סעמועלס ווערט בעשטימט אַלס היי-קאָמישאנער איבער פּאלעסטינא.
"Norwich bulletin" (USA, Conn.), 11 November 1922, p. 5
Famous Zionist Speaker with Palestine Pictures
Under the auspices of the Norwich Zionist district, moving pictures of Palestine which were taken last August are to be shown Sunday-evening at the Community house. They will show the new Palestine and the evening will have special interest in addition, because Dr. Baer Epstein, one of the foremost Zionists, and one who has been heard in Norwich before, is to be a speaker. His address will be in Yiddish. The meeting will be an open one, without admission charge. Dr. Epstein, who is a graduate of the universities of Heidelberg and Marburg, has been devoted to the Zionist cause since his youth, and was for a time one of the leading Zionists in Wilna. About eight years ago he was persuaded to devote his oratorical talents and organizing ability to the cause of the Jewish National fund. The committee arranging for the meeting consists of Samuel Taylor, chairman, Morris Susszman, Jacob Buckoff, L. Nelkin, S. Radish, S. Wiener and M. L Silerman, secretary.
"The Educational Screen", January-December 1922, p. 235
[…] "Ben Hur" which is to reach the screen at last will be made in Italy and Palestine […].
"Nieuw Israëlietisch Weekblad" (NL), 01.12,1922, p.6
DE PALESTINA –FILM
Maandagavond is de Palestina-Film in "De Twee Steden" voor een volie zaal vertoond. Onder de niet alleen uit Joden bestaande aanwezigen werden opgemerkt dr. J. Th. De Visser, Minister van Onderwijs, Kunsten en Wetenschappen, jhr. mr. Feith, mr. M. Duparc en oud-minister Lely.
De bijeenkomst werd door den heer A. Simons Mz., voorz. Van den Nederl. Zionistenbond met een kort woord geopend, waarin hij gewaagde van de belangstelling, die allerwege voor het Joodsch National Fonds gevoeld wordt.
De film bestaat uit 5 afdeelingen en is door J. Bendow van Jeruzalem opgenomen. Ze bevat en voor het J. N. F., èn voor den Zionistenbond goed te gebruiken propaganda-materiaal. Nadat het portret van Theodor Herzl vertoond is, krijgt men achtereenvolgens iets van Palestina te zien, te beginnen met de aankomst der Joodsche pioniers "Chaloetsim", hun werken en streven en het resultaat. De film heeft, voor den Zionist zeker machtige bekoring; het land der vaderen weder [?].
Toen twee deelen der film waren afgedraaid, hield mr. I Cohen Hz. Van Rotterdam een geestige rede, waarin hij wees op wat door de Zionisten dereikt was en waarbij hij, opwekkend tot medewerking, eenige toelichtingen op de rolprent gaf.
Toen alle beelden waren vertoond, nam minister de Visser het woord, gewagende van de attractie, die Jood als Christen voelen voor het Heilige Land. Het Zionisme is een mooie uiting van nationaliteitsgevoel, waarvoor hij eerbied heeft. De minister hoopte, dat de Zionisten aan vaderlandsliefde zullen aankweeken, maar daarbij ook het gloof aan den waarachtigen en eeuwigen God.
De verschillende filmbeelden werden belangloos begeleid door het strijkje Lydadite, onder leiding van den heer van Ijsselstein. Onder het ten gehoore gebrachte waren ook eenige Joodsche muziekstukken. Bij het Hatikwa stonden de aanwezigen op.
Naar we vernemmen, zal de film in Chanoekotijd nog eens voor de jongere garde worden vertoond.
Als voorloopige aankondiging kunnen we nu reeds mededeelen, dat Rabinijn I. Maarsen van Amsterdam 10 December a.s. in het Joodsch Tebuis zal spreken over "Het Gebed van den Wetende".
Op uitnoodiging van het Haagsche Comité voor het Nederl. Keren-Hajesod heeft deheer I. V. Rijs zich bereid verklaard, in dit comité zitting te nemen.
Voor a.s. Zaterdegevond hebben de N.Z.B. en Mizrachi alhier een bijeenkomst in Pulchri Studio naar aanleifing van de vertooning der Pal.-film belegd, waar dr. A. V. Raalte en de heer J. Hertzberger het wooed zullen voeren.
"Bnai Brith Messenger" (USA, Cal.), 01 December 1922, p. 4
Wonderful Palestine Moving Picture Preview Witnessed
The local Keren Hayesod headquarters having just received the latest moving picture (6 reels) of Palestine, called a special meeting of the Keren Hayesod and Zionist District Executive Committees Monday, November 27, at 10:30 a. m. for a pre showing of this most interesting picture, showing intimate scenes of the new Jewish life in Palestine, holiday celebrations in the British-Jewish Legion camps as well as in the villages, bountiful orchards and vineyards, gorgeous views of the River Jordan whose power is to be harnessed for the electrification and motive power of the country, and beautiful scents and historic Holy landmarks of interest to both Jew and non-Jew. Worthy of special note is the scene showing the worshipers praying at the wall of the ancient temple. The picture also shows the work which has been accomplished with the funds furnished by the Keren Hayesod (Palestine Foundation Fund).
"The Film Daily", 4 December 1922, p. 3 (1282)
Broadway at 42nd, St. N.Y. City […]. Bible series. / Here "The Old Testament", a series of Biblical pictures, produced by Armando Vay, has just arrived in the country. The films were taken in Egypt, Palestine and Sahara Desert, and it is said cost several millions, taking ten directors, 15 photographers and a vast army of technical assistants, five years to make, under the supervision of Pietro Garriazo. It is said the greater part of the money used to produce the series was advanced by the Italian Government.
"Exhibitors Trade Review", 09 December 1922, p.82
Goldwyn is making elaborate plans for its proposed production of "Ben Hur […] Cedric Gibbons, art director for Goldwyn, has had his staff employed on scenic and technical problems in connection with the "Ben Hur" production for some time. Mr. Gibbon's ask is of a sort not usually confronting a motion picture art director for, in addition to problems concerning studio sets, he must prepare plans for the erection of entire ancient cities and villages which will be erected in Palestine itself where many of the exteriors will be made.
"The Film Daily", 17 December 1922, p. 18
"The Voice of the Lands" – Geographic – American
These are five units, about 1,000 feet each, of the Geographic series of Bible pictures. The subjects covered are "Jerusalem", "The Road to Jericho", "Beersheba", "Hebron" and "The Valley of Bones". The places where many of the events recorded in the Old and New Testaments tool place are shown with adequate titles and color inserts of Biblical characters. Modern scenes of the Holy Land are included, showing how little progress has been made. The pictures are of general interest.
על ההפקה, בפירוט רב, ראו:
"Exhibitors Trade Review", 23 November 1922, p.1638
"The Film Daily", 6 June 1922, p. 56
"The Washington Times" (USA), 20 December 1922, p. 7
With Hays and his associates working for "better pictures", movies apparently are acquiring religious". One director is filming the "Ten Commandments". Many producers are moralizing in the films. Now comes a series of Biblical pictures "The Old Testament", the films being taken In Palestine, Egypt and the Holy Lands. National Non-Theatrical pictures will release the series.
"דאר היום", 20 בדצמבר 1922, ע' 2
למשפחת בן-יהודה ולבן-אב"י. / את השם הגדול א. בן-יהודה שהמנוח השאיר למתנה לדורות הבאים, תלווה גם כן דמות דיוקנו, אור-זיו פניו לכל תנועותיו וביטויו של בטחון ואמונה בעתיד עמו, שאנוכי זכיתי לאסוף לאוצרנו במכונת הראינוע רק לפני חודש ימים ברגעי אושרו, רגעי בניין בהניחו את אבן הפינה לביתו בביתנו הלאומי. / יאירו נא גם קווי זוהר אלו את מחשכי יגונכם. / אתכם בצער י. בן-דוב ומשפחתו.
"The Chicago Sentinel" (USA), 22 December 1922, p. 23
Zionist Organization of America
On Saturday evening; December 30, an entertainment and dance will be given by the Jewish National Fund Committee in the drill hall of the Capitol Building, State and Randolph streets. At this time, Dr. Baer Epstein of New York will present "A Night in Palestine", a movie depicting present day life and customs in Palestine. The film will show the wonderful improvements that have taken place, as well as the natural resources which have been and are being developed. A committee, with Dr. Philip Warsaw as chairman, has arranged a dance to follow the entertainment.
עוד, ראו:
"The Chicago Sentinel" (USA), 15 December 1922, p. 30
"The Chicago Sentinel" (USA), 29 December 1922, p. 28
"Bnai Brith Messenger" (USA, Cal.), 29 December 1922, p. 5
Palestine Moving Picture to Be Shown at Contributors Meeting
Pride and prestige to all Jews in the entire Diaspora
The constructive achievements in Palestine have been unprecedented, and it is largely the generosity of the American Jewry that has made these achievements possible.
In order that our local contributors to the Keren Hayesod cause may have a proper conception (better than any written words could possibly convey) of what conditions are actually like in Palestine, the local Keren Hayesod bureau has secured from New York a six-reel film depicting the various achievements. The film will be exhibited to our local contributors at the B'nai B'rith Temple oil Thursday evening, January 11th, 1923.
At this contributors' meeting, there will also be given a complete and detailed report of all transactions which have taken place through this office, and the actual amount of money collected and transmitted through: New York head-Quarters to Palestine, as well as other vital items of interest to each conscious Jew. The film is not only beautiful from the viewpoint of descriptive art but has an inspiring message to every receptive Jew and Jewess in whose breast there burns that spirit of nobility which characterizes the Jewish nation. It is the hope of the local Executive Committee whose endeavors have secured this wonderful film for the Los Angeles contributors that each and every local contributor will make it his business to come to this meeting, and to show that personal interest of which our great movement is of worthy. Let us try to make this meeting (Thursday eve., January 11th) an event in the life of Los Angeles Jewry so that we in turn by our example may inspire those of us who have not as yet awakened to that national consciousness which the non-Jewish world expects of Us.
מקורות
[1] Gordon J. Edwards
[2] Helen Lindroth (1956-1874) – שחקנית הסרט האילם. לפי IMDb 103 כותרים.
[3] לזיהוי הסרט, ראו: גרוס, "הסרט העברי", ע' 30.
[4] J. Gordon Edwards (1925-1896) – שחקן, בימאי ומפיק בתיאטרון, מוסיקה וסרטים.